Pine
Summer 2 2022
What a busy year we have had in Pine! It has been an absolute pleasure working with the children and seeing them develop both academically and emotionally and grow in their confidence in their own abilities. This last half term has seen them work on the following:
Mathematics
We have enjoyed some fun practical, 'hands on' lessons about angles this term, with a focus on the language of angles including obtuse, acute and right-angle. We have also spent time developing skills in using protractors to produce accurate drawings of angles and lengths.
Reading
We have been reading the classic novel, Gulliver's Travels in reading lessons. Once again we have focused on the different types of questions such as inference and retrieval with the children further developing the skills and confidence. Gulliver's Travels has been a challenging novel to read as there are many unfamiliar words within the text, but this has given the children many opportunities to develop their vocabulary and enabled excellent opportunities to practise using a dictionary.
Writing/R.E.
We combined our learning in R.E. with our learning objective in English to write an information text. We looked at the key question based on the Hindu faith – 'How can Brahman be everywhere and in everything?' In our R.E. lessons, we looked at how we are different things to different people and the Hindu belief in the one God, Brahman, who is represented in many different forms. The children then completed some independent research and wrote an information text, using features such as sub-headings, colons and bullet points.
We have concluded our learning in R.E. with a piece of work for the 'Spirited Arts' competition, based on our key question. It is always amazing seeing the children express their thoughts through art and they have definitely shown more spirituality this year.
Our last major writing piece has been a précis, or a summary of a longer text. We used a text about litter and highlighted the main points, which we then used to write our précis independently. Our discussions and written work about littering and the effects on the local environment in particular, led into preparations for painting Bessie and Gertrude, the wooden cows that are used by the Love Langton Litter group. Do have a wander up onto the Priest's Way this summer and admire the children's work, where we hope the message of 'leaving nothing but paw prints' will encourage dog owners to take their dog dirt home with them and 'keep our fields green and clean' will encourage all people to take any litter home with them. This project always encourages great teamwork – well done Team Pine!
Science
In Science, the children have been learning all about materials this term. We have discussed the reasons why certain materials are suitable for specific purposes and what properties make them suitable. We have also been able to do a selection of experiments in class including testing different materials properties such as their hardness or flexibility, and then thinking about those properties they possess and possible uses for them in everyday life.
There has also been some great work going on with in our foundation subjects:
In P.S.H.E. this half term, our puzzle piece has been 'Changing Me', where the children have acted in a mature and responsible way, as we have looked at what happens during puberty and into adulthood.
Our French lessons have allowed us to explore the delights of culinary France! We have learnt lots of new vocabulary for different foods and drinks and learnt the simple language needed to order food in a café. The children will be able to consolidate this learning in our lessons next year.
In Humanities, the children have been learning all about democracy and how parliament is run. They have also learnt about the structure and role of parliament in our society, and gave a great deal of consideration to what policies they would make if they were trying to get elected into Government. The children also had the opportunity to meet our local politician, Richard Drax, and ask him questions.
In music lessons, the children have been focusing on the genre of Soul this term, listening to and appraising many of the classic Motown hits. Lessons have also included opportunities for playing their own instruments such as the recorder or using the glockenspiel app on the ipads to create their own compositions and improvisations.
P.E.
The children enjoyed a very successful Sports Day, with them all showing great sportsmanship and support for their team mates, with a fantastic fun day had by all.
Have a fantastic summer break!
Mr Girling and Mrs Goodwin
Summer 1 2022
It's been a short, but incredibly busy half term! We are pleased with the progress being made by the children, both academically and general maturity. A highlight this half term was the trip to The Lighthouse in Poole, watching the BSO perform a number of original compositions, including 'I can't get to sleep', which the children took part in.
Reading – We were able to finish our reading of the fiction book 'Room 13' this half term. The children really enjoyed this spooky adventure story, and have been able to develop all there reading skills through class discussions and written work. The skills the children have been developing have been retrieval of information from the text, interpreting the feelings and actions of the characters in the book, thinking about the choices of language used in the text and explain the meaning of unfamiliar language used in the text. The children have also had the opportunity this term to read and analyse the classic poem, 'daffodils' by William Wordsworth. We have achieved this through written work and class discussions.
Maths – The focus in maths this half term has been decimals, percentages and fractions. This block of work has included comparing decimals, understanding percentages as decimals and fractions and finding equivalent fractions, decimals and percentages. The children have also been learning about decimals including both the addition and subtraction of them, understanding tenths, hundredths and thousands. To support the children in their learning and understanding they have used a selection of manipulatives in lessons such as place value counters, place value grids and dienes.
Science – Many of the science lessons this half term have been noisy, active and fun as the children have been learning all about sound. They have had the opportunity to undertake a number of lively experiments to understand how sound is created and travels. This has included learning about vibrations, how sound travels through a medium to the ear and how different musical instruments can create a different pitch and the relationship of that pitch to the vibrations the musical instrument makes.
RE – Our key question, 'What would Jesus do?' has enabled us to study some texts from the Gospels, as we have built on our learning from last year, to understand more about how the key question influences Christians in their lives. We identified many key values Jesus showed in the Gospels: love, generosity, compassion and justice. We read some words from Mother Theresa, an inspirational Christian, who devoted her life to helping others, looked at different types of prayers, questioning the reasons why Christians might say these, as they try to follow Jesus. In our final lesson, we reflected on a variety of moral dilemmas and wondered what Jesus might do and also, what we would do.
Writing
We have worked particularly hard to improve the level of accuracy in our written work, continuing to 'edit and evaluate'. We have enjoyed a new feature – WOTD! 'Words of the Day' have included:
optimistic, enhance, radiate and iridescent. We are becoming more competent with our grammatical understanding, which in turn, is helping us to improve the level of our independent writing. After writing a final story, we turned our attention to different types of poetry, which we analysed, before putting pen to paper ourselves! Great work!
French
Qu'est-ce que tu aimes manger? Qu'est-ce que tu manges? Cultural awareness of food and drink in different parts of France has been interwoven with language-learning this half term. We have learnt how to use the different 'building blocks' to build a variety of sentences, improving our grammatical knowledge at the same time. In French, we have to use the word for 'the' with the opinion words and the word for 'some' when we say what we eat and drink – it's all about patterns and remembering to use our notes to help us! We have enjoyed some songs too – 'Je suis une pizza' is a very catchy tune and helped us recognise the different words for 'some' in French!
P.S.H.E
This half term's puzzle piece has helped us look at different aspects of relationships – relationships with ourselves and with others. We do come across some challenging topics in our lessons and I am always impressed by the level of maturity and thoughtful comments that are made by the children
Spring 2 2022
The children have all been working very hard again this half term and we have been impressed with their mature attitude.
This half term in Maths lessons, the children have been learning all about fractions. This has included learning about equivalent and improper fractions and comparing and ordering fractions. The children have also been learning how to add, subtract and multiply fractions using various strategies including understanding everyday word problems.
In writing, we have focused on narrative writing, working on the planning of a story set in Whitby, the setting for our class reader, 'Room 13'. We have learned to use more descriptive, figurative vocabulary and techniques to help capture the reader's attention. Many of our targets are ongoing, including how to use dialogue effectively to help the reader understand more about characters and to advance the action in our stories. It was so pleasing to see the children include examples of our learning in their assessment piece. Here is an impressive excerpt from Mia's opening paragraph: 'The gloomy trees swayed, whispering to one another. Alice walked on, her feet stepping into the crunchy mud, her cloak waving in the wind. As she walked further into the depths of the forest, she came to an old, ancient castle, an earthy scent filling the air. The sun faded, leaving the moon, a glistening pearl in the night sky…'
The class have been enjoying reading the book 'Room 13' in all our reading lessons. Room 13 is an exciting children's fictional story full of suspense, mystery and adventure. The children have been developing their comprehension skills in the areas of retrieving information, interpreting characters' feelings and responses to situations and thinking about the language used in the book through developing a greater understanding of the meaning of words and the context in which they are used.
In R.E. we have been reflecting on the story of the Birmingham Qur'an and how important the Qur'an is to Muslims. Is it the paper that is sacred, or the meaning of the words? Should all Birmingham people be proud of the Birmingham Qur'an? Are the pages precious because of history or theology? As always, we enjoy stimulating discussions about religion and beliefs, always looking to justify what we are saying, drawing on previous learning.
In P.S.H.E. this half term, our puzzle piece has been 'Healthy Me', but we also continued with our 'Dreams and Goals' topic, which culminated in a most wonderful display of teamwork, as the children led the fundraising activities for Red Nose Day. When things didn't quite go to plan, we saw resilience and we were very proud of the children and their achievements!
'Qu'est-ce qu'il y a dans ta ville?' What is there in your town? We have been learning about places in the town in French, building sentences and recycling language. Our final lesson saw the children write about their 'ville idéale' and it was 'fantastique' to see some super, independent writing in French.
In Music lessons the children have been studying the musical themes of Pop Ballads old and new and Hip Hop and Rap music. Lessons have included many opportunities to listen to and appraise a large collection of songs, learn and sing different songs, learning to play the glockenspiel using the ipads and developing their understanding of the musical pulse of a song through dancing games and activities.
In Geography, the children enjoyed a trip to Leeson House, developing their orienteering skills, learning how to use a compass and how to use six figure grid references. We hope they will have the opportunity to show you some of these skills if you go walking in the Easter holidays!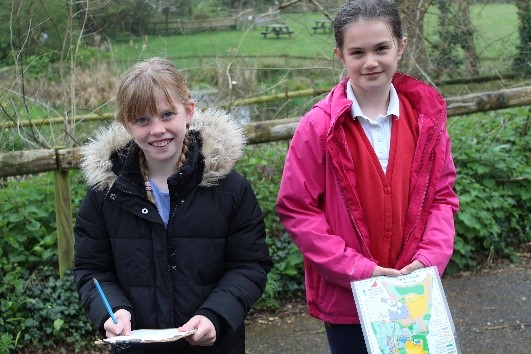 The children have continued using map skills in P.E. as well as practising different team games.
Thank you for your support with homework. We hope that the children are becoming more independent and organised as we move towards the end of Year 5.
We'd like to wish you all a very happy and peaceful Easter.
Spring 1 2022
The children have all been working very hard again this busy half term.
The main focus in Math lessons this half term has been understanding and learning both multiplication and division formal written methods, which has included using them to solve everyday word problems. The children have also learnt about finding the perimeter and area.
In Reading the children have been further developing their comprehension skills, with a focus on the skills of explaining, retrieving and interpreting the text and giving reasons for the choices that the author has made. The texts they have been reading were Macbeth and The Highwayman poem.
In Writing, we have used 'Macbeth' as a stimulus for different genres of writing. We put ourselves in the shoes of Macbeth to write a letter, Lady Macbeth for a diary entry and our final piece is a newspaper report. We are aiming to become more independent learners, using different resources to help us and to edit and evaluate the language and punctuation we are using.
Our learning in R.E. has focused on the question 'What does it mean if God is loving and holy?' This has led to some interesting discussions, with the children being encouraged to ask questions, as this is such an important part of the learning process. We enjoyed our lesson in St. George's Church and are grateful to Rev. James for his help with our 'big question'. Mrs Goodwin was very impressed with some of the comments and observations made by the children during our trip.
In French, we have been working on our geographical awareness of France and the language focus has been on the weather. We should now be able to tell you where major cities and mountain ranges are located and what the weather is like at different times of the year!
Our work in P.S.H.E. on 'Dreams and Goals' has culminated in plans for some fundraising activities for Red Nose Day. Working together for the benefit of others has been our main drive here. There are some exciting activities planned by the children in Year 5 and Year 6 – more details to follow in March!
In Science lessons, the children have been learning about the life cycles of humans, animals and plants. They have also been thinking about the similarities and differences between the lifecycles of mammals, birds, insects and reptiles.
In Art, the children have produced some incredible work this term. They have studied the art of Islam, including geometric patterns, resulting in their own geometric art work. They have also studied the art work of influential artists famous for producing pattern art which has inspired them to create their own original pieces and develop their own style of artistic creativity.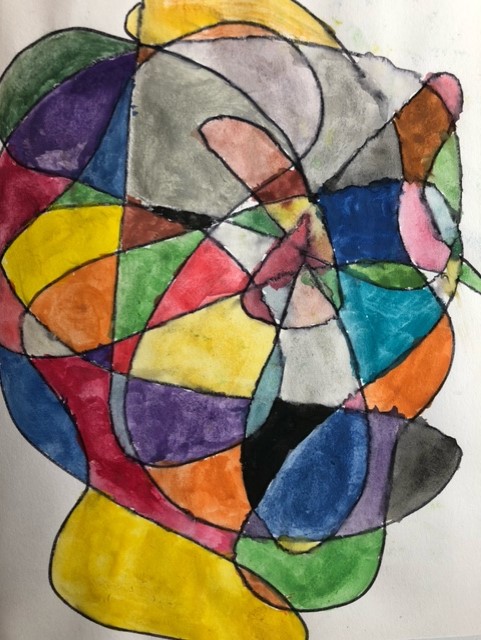 Best wishes
Mr Girling and Mrs Goodwin,
Pine Class Teachers.