Maple
2022 - 2023
Summer term 1
This half-term, Maple Class enjoyed learning about dinosaurs. We are very lucky to live in an area on the Jurassic Coast and have a collection of dinosaur footprints a short walk from the school. We took a lovely scenic walk, in the glorious sunshine, across the fields and Priest's Way to visit the local collection. The foot-prints are from sauropods measuring a whopping 21 metres in length with huge footprints that we could fit many of the children's hands in!
In Literacy this half-term, the children enjoyed exploring instructional texts on how to create your very own dinosaur. The children worked really hard to ensure they followed the success criteria to make their text a real success, although some of the ingredients were quite frightening!
The children also worked on creating a play script with at least 3 different scenes. They based their play script on a Jurassic story we had shared during guided reading. The children were excellent at acting out various play scripts and really got into character!
Maple Class really enjoyed their swimming lessons this half term at a local swimming pool. They have worked hard to develop their strokes and confidently swim at least 25 metres without stopping. We were lucky enough to have a session taught by the 2 life guards where the children learnt about pool rescue and used the training equipment to dive underwater and bring the training manikin to the surface. The children also learnt how to tow a person to safety and how to make swimmers aware of dangers.
Outdoor Classroom Day was a huge success again this term. The children thoroughly enjoyed exploring the nature trail. They worked together as a team to build dens and explore local wildlife and used their imagination to create some fantastic games.
Key Stage 2 were incredibly lucky to be invited to The Lighthouse Theatre in Poole to perform alongside the Bournemouth Symphony Orchestra. We learnt a song and Makaton that went with the words and sung with hundreds of other children in Dorset to create a beautiful piece of music. We were also treated to many different songs from the orchestra which was incredibly inspirational
Maple Class Summer Term 1 2023
Spring term 2
This half-term, Maple continued to focus on 'Rainforests'. We ended our topic with a visit from 'Creature Teacher' who brought in different creatures from the rainforest such as a python, a giant millipede, a giant female stick insect, a scorpion, a bearded dragon and a Kookaburra. The children were so brave handling or touching the creatures and learnt a lot of vital information on what part each animal plays in its environment. Please see below for some fantastic images of the animals.
In Literacy this half-term, the children enjoyed being a reporter for the day. They conducted an interview to gain further facts about deforestation to use in a newspaper article. The children thoroughly enjoyed researching facts and learning about what makes a good newspaper article, ensuring their headline grabbed the attention of the reader.
In Science this half term, Maple enjoyed many different activities for 'Science Week'. The children particularly enjoyed being detectives and trying to solve the mystery of who ate the Red Nose Day buns. Maple had to investigate which mixture would create the most gas to fill the balloons when testing different amounts of sugar added to a warm water and yeast mixture. All the classes came together with their findings to solve the mystery and work out the perfect recipe mix to replace the missing buns.
Year 4 were lucky enough to take part in a residential visit to Leeson house. The weather was kind and the children were able to walk to Dancing Ledge and learn about the history of the smugglers and the geology of the area. Before bed, the children took part in a night orienteering session which was great fun, made even harder by the dark night. We looked at constellations and identified different stars and even spotted some planets shining brightly. The next day, the children thoroughly enjoyed fire lighting and testing out different materials to build a small camp fire.
Maple Class Spring Term 2 2023
Spring term 1
This half-term, Maple's topic was on 'Rainforests'. The children have been learning about where in the world they are and the impact they have on the planet and the devastating effect that deforestation has on both the planet and the animals that call the rainforest their home. The chil-dren thoroughly enjoyed researching different animals that live in the rainforest and enjoyed pre-senting all that they have learnt to the parents and carers in a class assembly.
In Literacy this half-term, the children enjoyed using the rainforest for different writing genres. Our writing was inspired by a 'hook' lesson where the classroom was turned into a rainforest complete with plants, sounds and water spray making the room feel humid. We then took a trip to the 'rain-forest' across the road, AKA the Nature Trail. The children used their senses to feel what it would be like in a real rainforest and used these to inspire their poetry writing. The children learnt about similes, metaphors and alliteration to ensure their poems were full of wonderful imagery for the reader.
In Science this half term, Maple have continued their learning about 'Humans and Other Animals'. The children focused on vertebrates and invertebrates and how the animals use this for certain protection against predators. We also ran an investigation into whether the size of a persons femur affects how far they can jump.
In Art and DT this term the children have used the rainforest topic to produce some wonderful works of art, which can be seen below. They have made some rainforests in a jar, which they got to take home, produced wonderful rainforest bird collages and recreated Henri Rousseau's Sur-prised! painting using different mediums.
Maple Class Spring 1 2023
Autumn term 2
This half-term, Maple focused a topic on 'Ancient Egyptians'. Our focus was on how did the Egyptians influence the world we live in today. We learnt about the different God and Goddesses and the mummification process, which was equally as fascinating as it was shocking. We looked at different sources of evidence and discussed how we know and understand so much about the Egyptian's even though the era ended thousands of years ago. The children produced some wonderful pieces of art, such as watercolour paintings and clay models linked to our topic.
In English this half-term, the children had some exciting topics. The 'Big Bad Wolf' wrote to the class protesting his innocence and his wrongful imprisonment. The children produced some fantastic reply letters with further questions for the wolf, meeting both grammar and text format objectives. St George's were visited by a friendly alien called Nannoo, who had crashed into the playground one night and made a bit of a mess in one of the classrooms and playground. This inspired our writing task and the class decided to write a story from Nannoo's perspective on his journey to Earth. The quality of writing these 'hooks' produced was phenomenal and the children were incredibly proud of their writing tasks, earning them a few extra house points!
In Science this half term, Maple learnt about 'Forces'. The children enjoyed exploring the different forces in action and thoroughly enjoyed taking part in a science experiment testing friction with different surfaces and cars travelling on a ramp. Maple have also started a new topic of 'Animals including Humans', which we will continue in the next half-term fitting in nicely with our topic of 'Rainforests'.
Maple class were lucky enough to take part in Outdoor Classroom Day which we linked with outdoor maths and art. We were lucky enough to have Sarah Spurling visit and take us on an exploration of our local area identifying trees and making a nature art sticky-strip. The children thoroughly enjoy the Outdoor Classroom Day which is why we have made sure to timetable one in termly. We are also very fortunate to have a Forest School trained teacher who has been working our class, once a week, to take us outside and explore nature and the environment. The children have had opportunities to climb trees, use tools to cut back brambles and weeds, build habitats and dens and, the icing on the cake, roast marshmallows on an open fire.
As we are on the countdown to Christmas, Maple have enjoyed taking part in the many crafting opportunities. We have decorated baubles for the the Christmas Tree Festival, designed and made nativity fabric squares and taken part in Christmas Dubber front cover competition.
All that's left to say is having a very merry Christmas and I will see you all in the New Year!
Autumn term 1
This half-term, Maple began the exciting topic of 'The Ancient Egyptians'. The children have been fascinated with the new learning, particularly the mummification process.
In English, Maple focused on Tutankhamun and researched and wrote wonderful non-chronological reports about his life and death. The children were amazed by the treasures found within his tomb. Maple class also wrote diary entries, based on the day Howard Carter discovered Tutankhamun's tomb. The children worked particularly hard to use exciting vocabulary, making it an exciting read.
In Science, Maple have been learning about 'Forces and Magnets'. The children investigated how different surfaces affect the distance a car will travel depending on the friction of the surface. Using a variety of magnet types, the children investigated the strength of different magnets by how many paper-clips it could hold in a chain.
The Art and DT work the children have created so far has been a real delight, The have used oil pastels to create beautiful oil pictures of Queen Nefertiti and clay to create either pyramids or an Egyptian sphinx. After half term, the children will be completing some cooking and sewing tasks.
2021 - 2022
Summer 2
This half-term, Maple's topic was on 'Coastal Locations'. Our focus was on looking at different human and physical features of the UK and comparing and contrasting to other countries in the world. The children used chalk and eight-points of a compass and gave directions looking at maps. We were lucky enough to have an orienteering session at Leeson House in the final week of last half-term which led us nicely into this topic area.
In English this half-term, the children explored features of leaflets and use of persuasive language. They wrote and illustrated some fantastic leaflets of their own, detailing the many wonderful things that Langton has to offer tourists.
In Science this half term, we have been learning about Living Things and Their Habitats. We focused on vertebrates and invertebrates and used classification keys to identify and sort the variety of living things. We walked to the nature trail and went on a hunt for different creatures to sort using these keys.
Maple class were lucky enough to take part in two themed days this half-term. The first was Outdoor Classroom Day which we linked with outdoor maths and art. The children thoroughly enjoy the Outdoor Classroom Day which is why we have made sure to timetable one in termly. The second exciting day was French Day. The children were lucky enough to sample a variety of cheese, French baguette and croissants. We enjoyed the lovely sunshine and played several games of Boules and learnt about the French Revolution. Finally the children made the Eiffel Tower using dried spaghetti and marshmallows.
This year has been truly wonderful and I've enjoyed every moment teaching Maple class. I can't wait to see what adventures the new Maple class will have next year! Have a lovely break and see you all in September.
Summer 1
This half-term, Maple have started a topic on 'Extreme Earth'. Our focus has been on earthquakes and volcanoes, where the children have learnt about the cause and effect of each event. The children made models on what is inside the earth and were fascinated to learn what was beneath their feet. In an imaginative activity, the children took a journey to the centre of the earth, where they went through different layers experiencing rocky rides and intense heat, which they had to wear protective clothes for. As a class, we created our own volcano using vinegar and bicarb and watched a real explosion happen before our very eyes. Linking in with our topic, we took a trip to Leeson House and discovers more about volcanoes and earthquakes and also took part in an orienteering activity which will lead us in to next half-term's learning.
In Literacy this half-term, the children wrote an exciting play script about a group of researchers climbing an active volcano which begins to erupt! Prior to this, the children gained experience acting in a group using a pre-written play script which benefitted their knowledge and understanding when they came to write their own.
In Science this half term, we have been learning about Animals, including Humans. They were fascinated with the digestive system and enjoyed sorting animals into different categories. They also learnt the different names and functions of teeth and compared these to animals, explaining why they differ from humans.
Maple class were fortunate enough to watch Bournemouth Symphony Orchestra play at the Light-house Theatre in Poole. As part of our music lessons this term, the children were asked to learn a song with Makaton actions and body percussion. We then sang this with many other schools alongside the full orchestra. It really was a truly magical sound and experience. The children were amazed by the songs created by different composers and were inspired to play a variety of instruments.
Our key question in R.E. has allowed us to learn more about what happened after Jesus was crucified. We read from Acts 2, in the Bible, to learn more about what is written about this time, then addressed the question of what Pentecost actually means for Christians today. This led to some excellent reflections, with the children all becoming more confident with expressing themselves, using a higher level of religious literacy. We were very pleased that Mrs Astle was able to witness the excellent learning taking place, when she visited one of our lessons.
In French, we have been looking at different methods of transport, learning about how we can travel to France from the U.K which has also helped our geographical awareness of the two countries . We have learnt to answer the question 'Comment vas-tu a l'ecole?' and have used language 'building blocks' to build sentences to say how we travel to school. We always have fun along the way, with songs and games included!
Spring 2
This half-term has seen the closure of our topic on Ancient Greece. The children took part in a themed activity day. The class dressed up in Grecian style outfits and all looked fantastic. They were given the opportunity to try a variety of Greek food, although the olives weren't enjoyed by all, however we had many brave tasters in class! Maple class also used the Greek alphabet to write their name and messages to one another.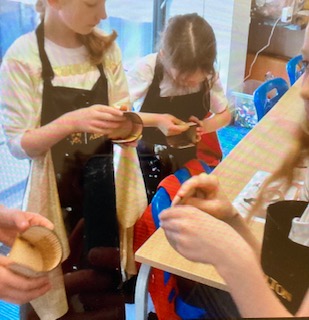 We finished the day by using a variety of hand tools, such as hacksaws, vices, metal files and glue guns to make a chariot, with the kind support of Mr Bolton from Milton Abbey school. Below are some examples of the fantastic chariots that were made in class.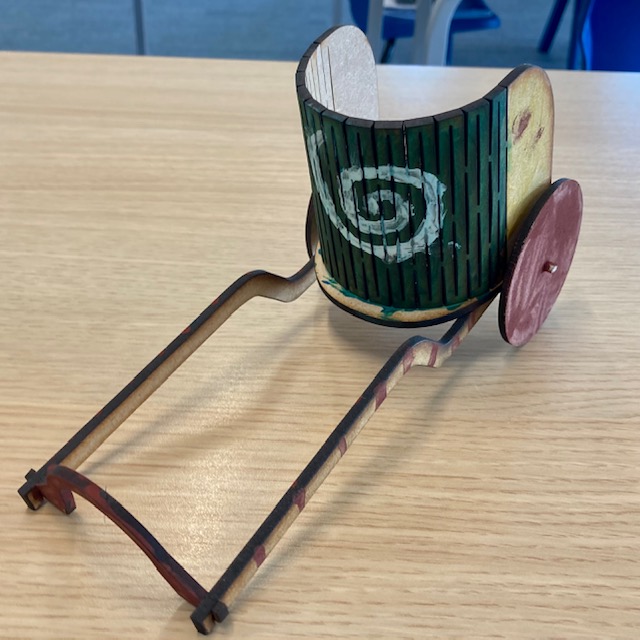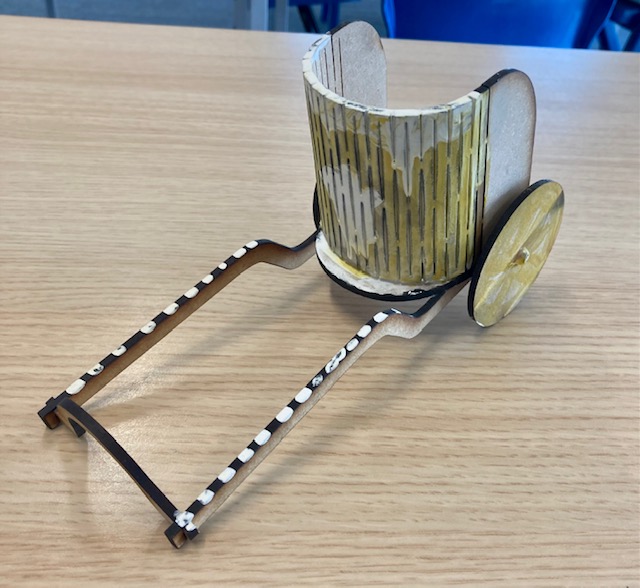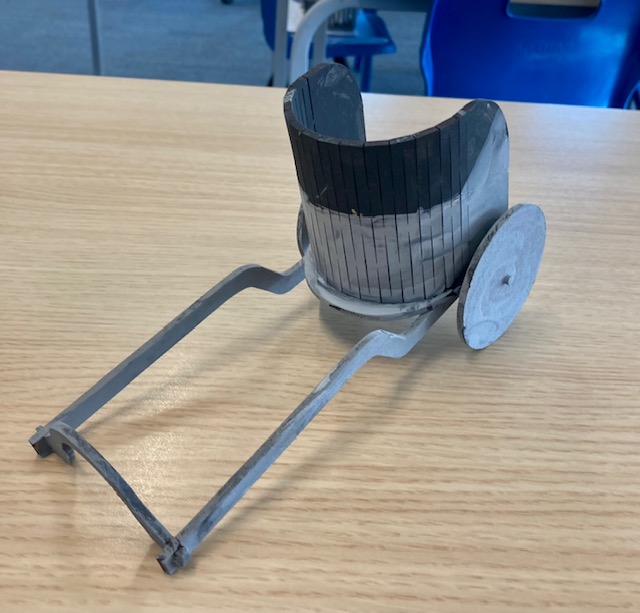 In Literacy, we have been learning about different forms of poetry and the use of figurative language in creating vivid images in the readers mind. The children planned and wrote some beautiful 'Spring' poems which we entered into the Purbeck Coast Poetry competition. Fingers crossed that we have a winner in Maple class, we are awaiting the results.
In Science this half term, we have been learning about sound. The children have now grasped a good understanding of how sound is made and heard. The children made string telephones and tested them out in the playground, they couldn't believe how well they worked!
Maple class were fortunate enough to watch a demonstration from a couple of professional brass instrument musicians, who have helped to produce music for many exciting films and musicals. The children were given the opportunity to try out some of these instruments with an aim to encourage them to take up lessons.
I have been so pleased to see so many children taking part in the wider curriculum of the school. A few children in Maple have been learning the violin, ukulele and guitar which I have been lucky enough to hear, they really are progressing fantastically. I have also been delighted that so many children in Maple have taken up the opportunity to be part of a Netball, Acro, Multi-sports and Nature club this term. Keep up the good work, Maple!
In R.E. the children have reflected on the subject of 'sharing', with a focus on the Sikh faith. We have aimed to make connections between what is written in the Guru Granth Sahib and how this is put into practice in everyday life. It has been interesting hearing about 'Seva' or 'the selfless service to others' and how Sikhs in the Midlands helped people during lockdown.
Our French lessons have continued to include a mixture of the four skill areas - listening, speaking, reading and writing and we have focused on numbers this half term. We have also learnt about some Easter traditions in France.
Spring 1
This half-term, Maple have been busy absorbing themselves into the world of ancient Greek gods and goddesses. They have learnt many stories about the Gods and are able to explain some of the bizarre relationships between them. The children were fascinated with the stories and as a result, had some fantastic opportunities for class discussions. The children wrote a wonderful story about Poseidon and Athena, which examples of can be seen below.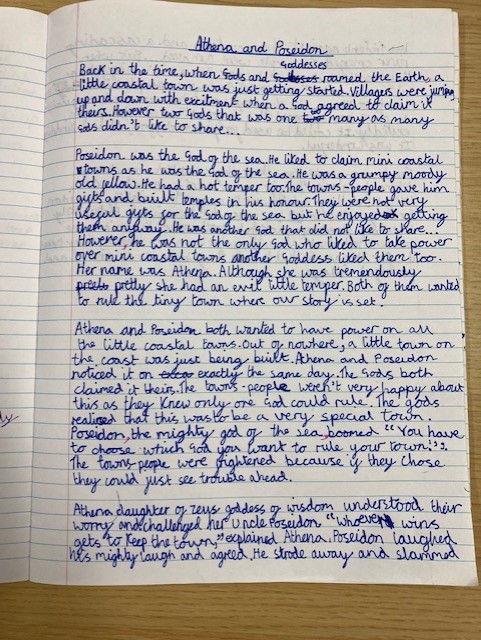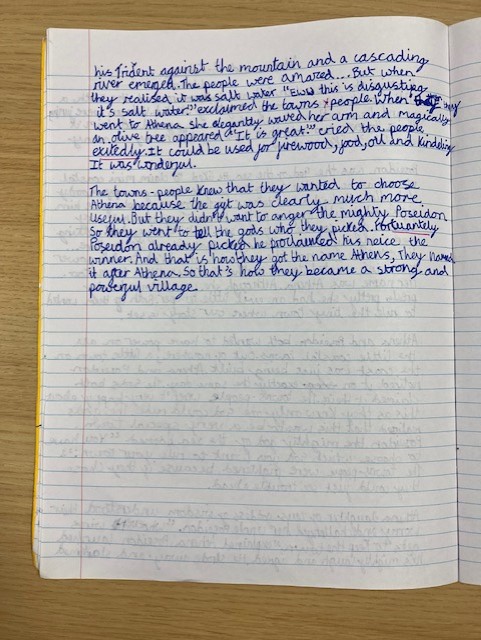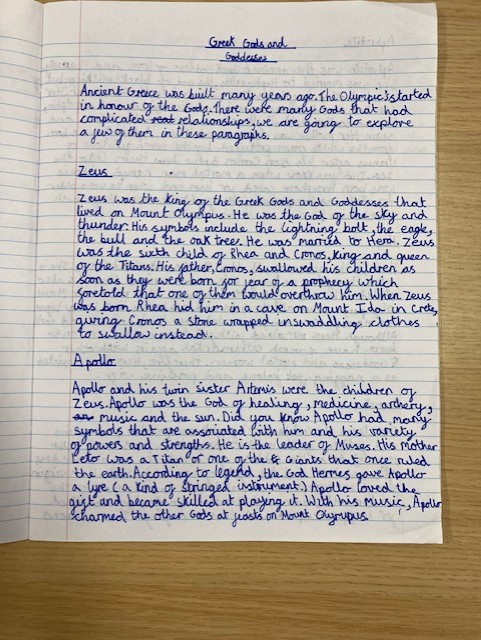 Art and DT lessons were linked to the Ancient Greeks and the children made some remarkable Greek vases and busts, using primary sources for inspiration. Next half term, we are planning a Greek day, including food and dressing up, we can't wait!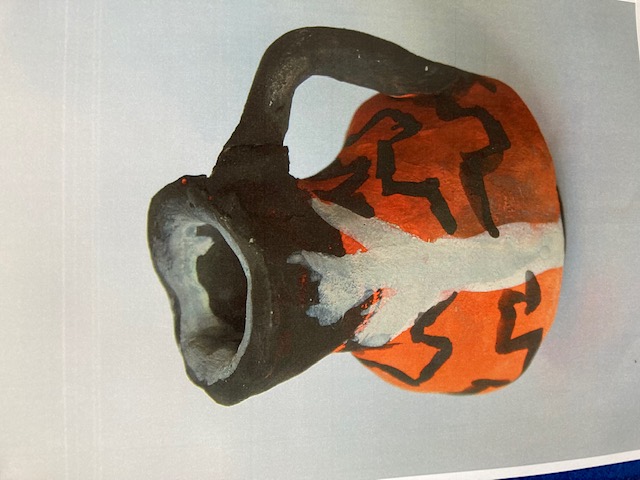 Maple class extended their learning in Science, where they made electrical circuits and discovered the differences between complete and incomplete circuits and even carried out an investigation on conductors and insulators.
Our key question this half term in R.E. has allowed us to explore the theme of 'belonging' and what this means to people who follow the Sikh Faith. The children have enjoyed learning about this religion and how some Sikhs choose to become a 'Khalsa Sikh'. During our discussions, we have reflected on our own sense of belonging and what this means to us. The children continue to impress me with their mature comments and thoughtful reflections.
In French, we have been working hard on French phonics, which helps us with our pronunciation and making links between sounds and spellings. We have combined this with learning about cultural aspects of France and have used 'The Carnival of the Animals', by French composer Saint-Saens, as a stimulus. We are also continuing to look at how sentences are put together correctly in French, using the story of 'Les 4 amis' to help us. Bravo la classe!
During Children's Mental Health week the children explored the theme 'Growing together'. The children were so respectful during these discussions and their responses were so very thoughtful.