Maple
Spring 2
This half-term has seen the closure of our topic on Ancient Greece. The children took part in a themed activity day. The class dressed up in Grecian style outfits and all looked fantastic. They were given the opportunity to try a variety of Greek food, although the olives weren't enjoyed by all, however we had many brave tasters in class! Maple class also used the Greek alphabet to write their name and messages to one another.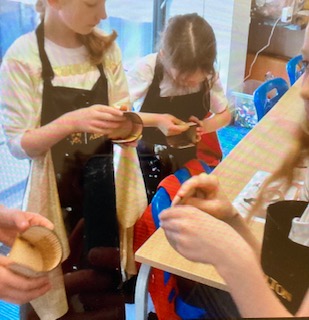 We finished the day by using a variety of hand tools, such as hacksaws, vices, metal files and glue guns to make a chariot, with the kind support of Mr Bolton from Milton Abbey school. Below are some examples of the fantastic chariots that were made in class.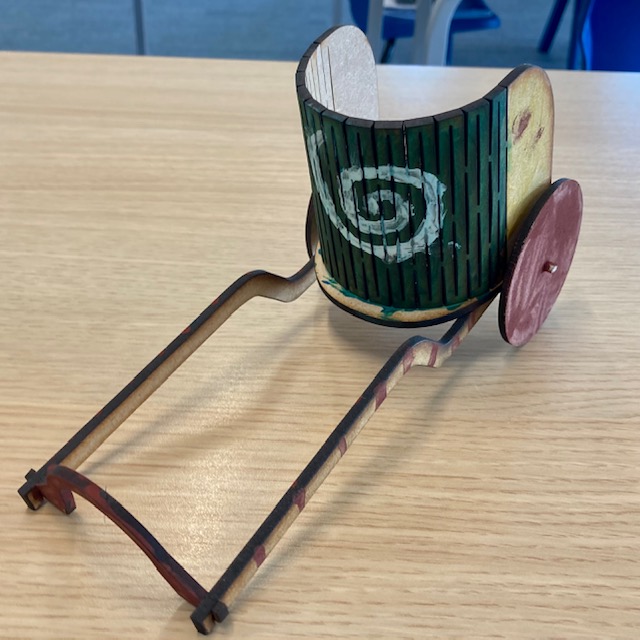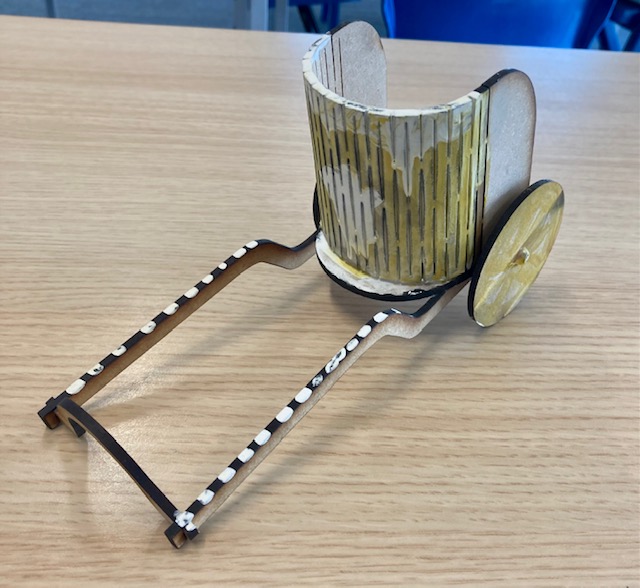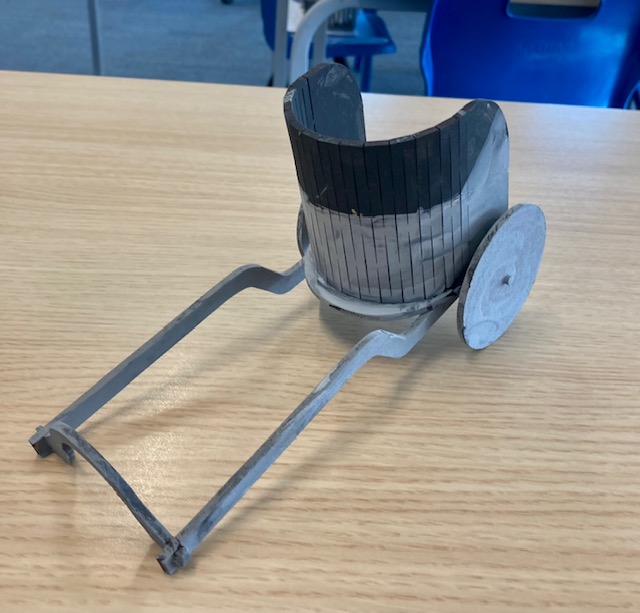 In Literacy, we have been learning about different forms of poetry and the use of figurative language in creating vivid images in the readers mind. The children planned and wrote some beautiful 'Spring' poems which we entered into the Purbeck Coast Poetry competition. Fingers crossed that we have a winner in Maple class, we are awaiting the results.
In Science this half term, we have been learning about sound. The children have now grasped a good understanding of how sound is made and heard. The children made string telephones and tested them out in the playground, they couldn't believe how well they worked!
Maple class were fortunate enough to watch a demonstration from a couple of professional brass instrument musicians, who have helped to produce music for many exciting films and musicals. The children were given the opportunity to try out some of these instruments with an aim to encourage them to take up lessons.
I have been so pleased to see so many children taking part in the wider curriculum of the school. A few children in Maple have been learning the violin, ukulele and guitar which I have been lucky enough to hear, they really are progressing fantastically. I have also been delighted that so many children in Maple have taken up the opportunity to be part of a Netball, Acro, Multi-sports and Nature club this term. Keep up the good work, Maple!
In R.E. the children have reflected on the subject of 'sharing', with a focus on the Sikh faith. We have aimed to make connections between what is written in the Guru Granth Sahib and how this is put into practice in everyday life. It has been interesting hearing about 'Seva' or 'the selfless service to others' and how Sikhs in the Midlands helped people during lockdown.
Our French lessons have continued to include a mixture of the four skill areas - listening, speaking, reading and writing and we have focused on numbers this half term. We have also learnt about some Easter traditions in France.
Spring 1
This half-term, Maple have been busy absorbing themselves into the world of ancient Greek gods and goddesses. They have learnt many stories about the Gods and are able to explain some of the bizarre relationships between them. The children were fascinated with the stories and as a result, had some fantastic opportunities for class discussions. The children wrote a wonderful story about Poseidon and Athena, which examples of can be seen below.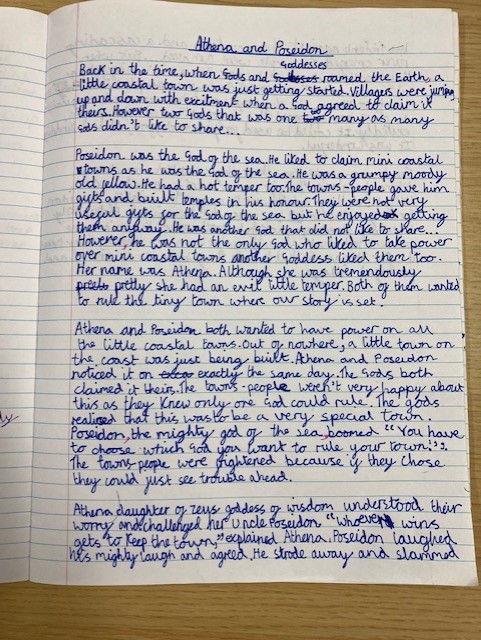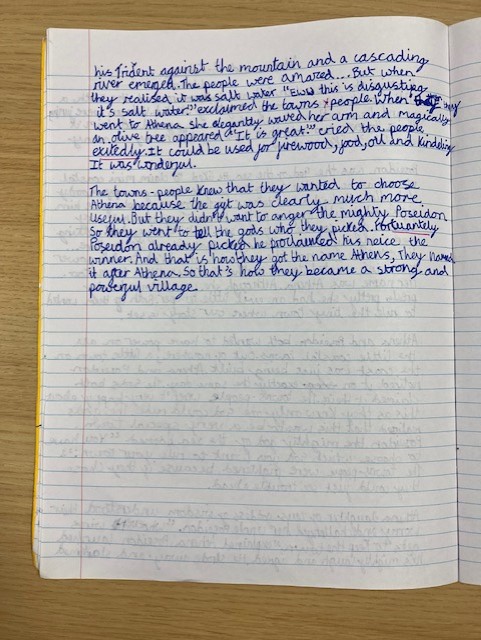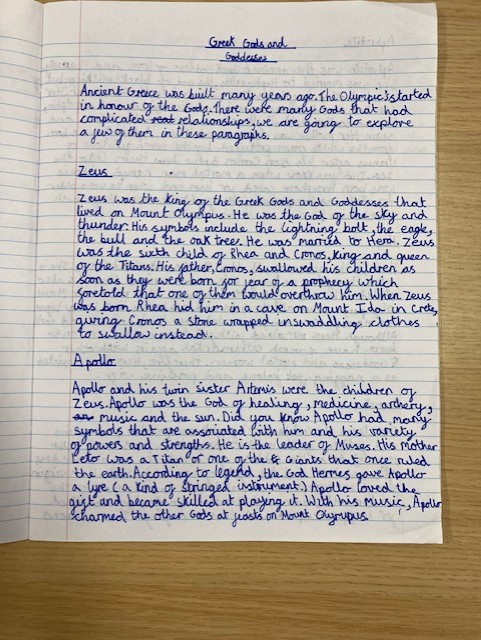 Art and DT lessons were linked to the Ancient Greeks and the children made some remarkable Greek vases and busts, using primary sources for inspiration. Next half term, we are planning a Greek day, including food and dressing up, we can't wait!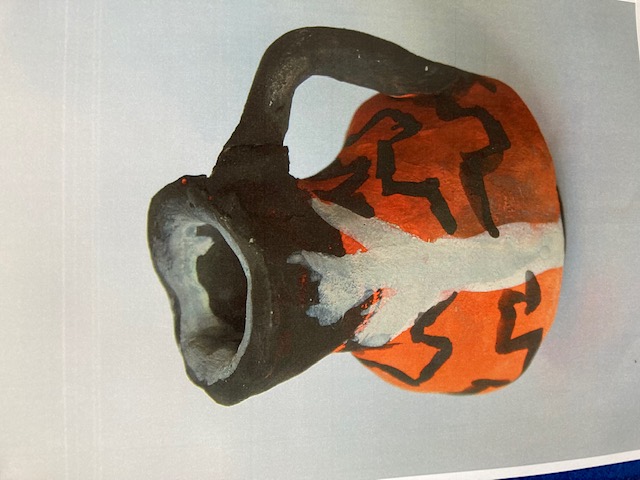 Maple class extended their learning in Science, where they made electrical circuits and discovered the differences between complete and incomplete circuits and even carried out an investigation on conductors and insulators.
Our key question this half term in R.E. has allowed us to explore the theme of 'belonging' and what this means to people who follow the Sikh Faith. The children have enjoyed learning about this religion and how some Sikhs choose to become a 'Khalsa Sikh'. During our discussions, we have reflected on our own sense of belonging and what this means to us. The children continue to impress me with their mature comments and thoughtful reflections.
In French, we have been working hard on French phonics, which helps us with our pronunciation and making links between sounds and spellings. We have combined this with learning about cultural aspects of France and have used 'The Carnival of the Animals', by French composer Saint-Saens, as a stimulus. We are also continuing to look at how sentences are put together correctly in French, using the story of 'Les 4 amis' to help us. Bravo la classe!
During Children's Mental Health week the children explored the theme 'Growing together'. The children were so respectful during these discussions and their responses were so very thoughtful.
Mrs Legg
Maple Class Teacher